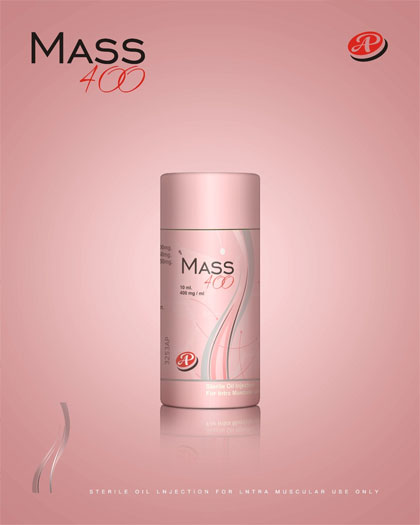 MASS 400
UNE COMBINAISON PARFAITE DE 3 ESTERS CE QUI AIDE À GAGNER DE LA MASSE MUSCULAIRE
Chaque ml. contient:
Testostérone Decanoate 100mg.
Nandrolone Decanoate 150mg.
Boldenone Undecylenate 150mg.

Testostérone décanoate (BAN) est un stéroïde androgène et anabolisant et un ester de testostérone. Il est ou a été un composant de Sustanon, avec le propionate de testostérone, le phénylpropionate de testosterone et l'isocaproate de testostérone. Le décanoate de testostérone a été étudié en tant que contraceptif masculin injectable à longue durée d'action
Nandrolone est un stéroïde anabolisant-androgène injecté (AAS) qui est utilisé médicalement sous la forme d'esters tels que le nandrolone décanoate et le nandrolone phenylpropionate. Ils ne sont pas actifs par voie orale et doivent être administrés par injection intramusculaire. Lorsqu'ils sont administrés de cette manière, ils forment un dépôt à partir duquel ils sont lentement libérés, et ont donc une longue durée d'action. Les esters de Nandrolone sont des promédicaments, et sont rapidement hydrolysés en nandrolone une fois dans la circulation.
La boldenone, également connue sous le nom de A1-testostérone, est un stéroïde anabolisantandrogène synthétique (AAS) et l'analogue déshydrogéné de la testostérone. Boldenone luimême n'a jamais été commercialisé; en tant que médicament
Fabriqué par : pharmaceutique, il est utilisé comme undecylenate de boldenone, l'ester undecylenate.
Testosterone decanoate (BAN) is an androgen and anabolic steroid and a testosterone ester. It is or has been a component of Sustanon, along with testosterone propionate, testosterone phenylpropionate, and testosterone isocaproate. Testosterone decanoate has been investigated as a potential long-acting injectable male contraceptive Nandrolone is an injected anabolic-androgenic steroid (AAS) which is used medically in the form of esters such as nandrolone decanoate and nandrolone phenylpropionate. They are not active by mouth, and must be administered via intramuscular injection. When administered in this way, they form a depot from which they are slowly released, and hence have a long duration of action. Nandrolone esters are prodrugs, and are rapidly hydrolyzed into nandrolone once in the circulation.
Boldenone, also known as A1-testosterone, is a synthetic anabolic-androgenic steroid (AAS) and the dehydrogenated analogue of testosterone. Boldenone itself has never been marketed; as a pharmaceutical drug, it is used as boldenone undecylenate, the undecylenate ester.