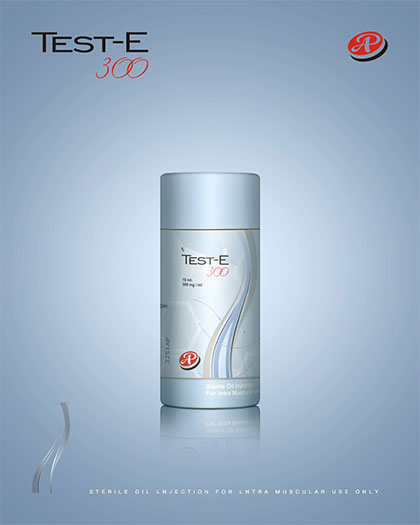 TEST-E 300
A PERFECT TESTOSTERONE ESTERS WHICH HELPS FOR GAINING MUSCLE MASS Each ml.
contains: Testosterone Enanthate 300mg.
Testosterone Enanthate is used for: Treating symptoms of low testosterone in men when the body does not make any testosterone or not enough testosterone (hypogonadism). It may also be used for other conditions as determined by your doctor. It is also used to treat certain types of breast cancer in women.

Testosterone enanthate is a male sex hormone. It works by replacing or supplementing the testosterone that is naturally made in the body. It also counteracts the effects of estrogen in certain types of breast cancer, which helps to decrease cancer growth.
Do not use testosterone enanthate if it contains particles, is cloudy or discolored, or if the vial is cracked or damaged.
Testosterone Enanthate is a single large ester base testosterone compound. This is a pure synthetic testosterone hormone that has a carboxylic acid ester attached in Enanthate (enanthoic acid). The ester itself is attached to the hormone at the 17-beta hydroxyl group. By attaching the Enanthate ester, this allows for a control of the hormones active duration and total release time. Once injected, the testosterone does not become active until the ester begins to detach from the hormone. The total detachment does not happen all at once but allows for a slow, steady release of the active hormone into the body. Once injected, there will be a sharp spike in testosterone within the first 24-48 hours post injection.
Manufactured by : hormone will continually separate and dissipate through the body. By its time frame, Testosterone Enanthate carries a half-life of approximately 8 days, which will allow for as little as one injection every 2 weeks in a therapeutic setting. However, every 7-10 days will prove