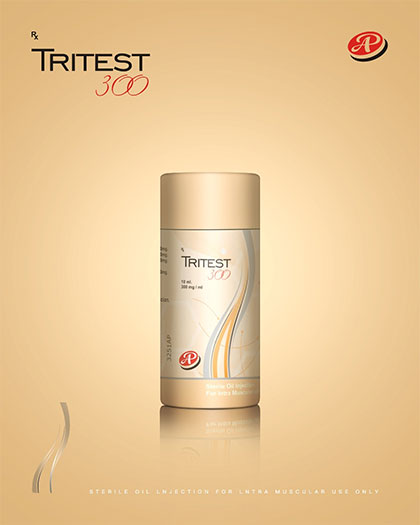 TRITEST 300
A PERFECT COMBINATION OF 4 ESTERS WHICH HELPS FOR GAINING MUSCLE MASS Each ml.
contains :
Testosterone Propionate 50mg.
Testosterone Decanoate Testosterone Isocaproate 100mg.
Testosterone Phenylpropionate 100mg. 50mg.

Testosterone propionate (USAN, BAN) testosterone propanoate, also known as propionyltestosterone, is an androgen and anabolic steroid and a testosterone ester. Testosterone esters were synthesized for the first time in 1936, and were found to have greatly improved potency relative to testosterone. Among the esters synthesized, testosterone propionate was the most potent, and for this reason, was selected for further development, subsequently being marketed. Along with testosterone enanthate, testosterone cypionate, and testosterone undecanoate, testosterone propionate is one of the most widely used testosterone esters.
Testosterone decanoate (BAN) is an androgen and anabolic steroid and a testosterone ester. It is or has been a component of Sustanon, along with testosterone propionate, testosterone phenylpropionate, and testosterone isocaproate. Testosterone decanoate has been investigated as a potential long-acting injectable male contraceptive Testosterone Isocaproate is not found individually but it is contained in some other drugs such as in Sustanon 250 and also in Omnadren, which are easily available in the market. Testosterone Isocaproate is somewhat same to the Testosterone Caproate but with a few exceptions. It has got same number of hydrogens, carbons, oxygen and same molecular weight but its active life is one day more as compared to Testosterone Caproate. Testosterone Isocaproate is bounded with a fatty acid or an ester which causes a delay in its release in the body. As told earlier that it has got a more active life which means it will stay in the body for a longer period of time and therefore to get it in the form of an injection once or at max twice a week in enough. Testosterone Isocaproate will help in increasing the body weight and will also help in gaining the strength. It also helps in losing fat in the body and gives an increase in libido, red blood cells, stamina and quick recovery after heavy training.
Testosterone Phenylpropionate ester gives us an active life of 4-5 days, falling just between the Propionate (short) and Cypionate (long) versions of Testosterone. I recently had the opportunity to try Manufactured by : this compound, and actually like it quite a bit-it's perfect for someone like me who likes short esters like propionate, but is too forgetful to inject every other day! Clearly, you'd get best results shooting this compound every third or fourth day, or roughly twice a week. Other than the unique ester, there's nothing much PHARMA to say about TPP that isn't applicable to any other form of testosterone.